Shanti Mahadevan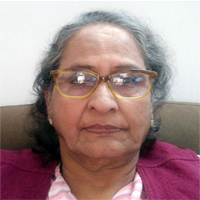 "A journey of a thousand miles begins with a single step," says Shanti Mahadevan, the Founder and Director of AMHCC. This is a motivational Chinese proverb that expresses deep insight about determination and it means that a person must begin his or her journey to reach his goal. Very true that big visions are realized through small significant steps and actions, but when coupled with experiences and opportunities, it makes one's destiny. This is just the case of what led S Mahadevan into the field of holistic medicine.
At the age of thirteen, S Mahadevan had an attack of Jaundice; her mother and grand-mother cured her quickly with their old natural home remedies. She was also awed by the use of herbs for the growth of luscious hair, to the natural cure of other ailments in her home. This planted the first seeds of practicing medicine in S Mahadevan's mind; but not in the allopathic way!
After completing her High School in Mumbai, S Mahadevan enrolled at Madras University where she earned her Bachelor of Arts degree in English Literature. Her desire to do studies in medicine took her further to complete her B.N.Y.S. degree and M.D. in Homeopathy. After a short break, she completed Ph.D. in Psychology. She has a number of certifications in energy medicine and her passion lay in both learning and teaching.
The most unique aspect about S Mahadevan is that she has an innate gift of observing and listening which are the assets of a good counsellor. The role of the counsellor is to help the clients develop their own understanding of their situation which enables them to explore aspects of their life and feelings, and allows them to talk openly and freely.
S Mahadevan was on the panel of India's national television channel - Doordarshan, New Delhi, as a TV serial producer for children's programmes and documentaries on family & health issues. She bagged a national award from the Ministry of Health & Family Welfare, New Delhi, for one of her telefilms. After completing all her assignments with both Doordarshan and Ministry of Health & Family Welfare at New Delhi, she concentrated on teaching and also took to feature writing for In-flight magazines. Photography and painting has been her passion since school days.
Fondly looking back at her achievements and experiences, S Mahadevan says, "A bird doesn't know the power of her wings unless she spreads them out to fly. Likewise, I didn't allow my desires to be caged and I didn't stop flying. I have been on the go, and it has been a very long and purposeful journey which I did quietly, silently and steadily. Passion had been the fire that lit my way. Success is not merely a dream; it belongs to one who has the will power and obsession to achieve it. According to me, success isn't the result of how fast you run in the race, but how far you can go with your patience. Honesty is the first chapter in the book of wisdom and I believe in doing things right even when no one is looking. It has been my ardent desire to contribute what I have to the world and be one of those who have this vision and conviction that this can be done..."
4, Shishu Mandir, Gokhale Society Lane, Parel, Mumbai–400012. Maharashtra, INDIA