Consultations

»
»
»
»

Workshops

»

Aromatherapy

»

Aura & Chakra Healing

»

Celtic Reiki

»

»

»

»

Karuna Reiki

»

Medical Dowsing

»

Money Reiki

»

Pendulum Dowsing

»

»

Usui Tibetan Reiki

»

»

Flower of Life

»

»

»

»

»

»

»

»

Play Therapy

»

»

Family Therapy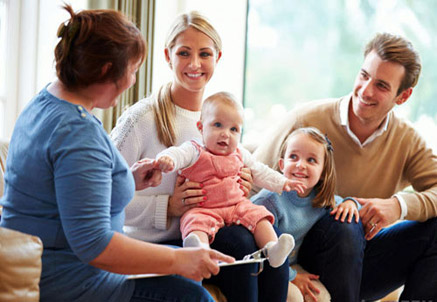 Event Description
Our Family Therapy class will be more of theory with case illustrations and examples to make the course interesting. We all begin life with a family composed of blood relatives, adopted parents, or a foster family. The family that we acquire when we are born, influences every aspect of our lives - from our first moments to our last - for the better or for worse. If we are born into a healthy family with healthy relationships, we are likely to learn how to maintain healthy relationships. If we are born into a dysfunctional family that struggles to connect, we may also struggle to connect with others.
While it is certainly unlucky to be born into the second kind of family, it's not an unchangeable situation. Family Therapy offers families a way to do this - a way to develop or maintain a healthy, functional family. Family Therapy is a treatment that is designed to address specific issues affecting the health and functioning of a family. It can be used to help a family through a difficult period of time, a major transition, or mental or behavioral health problems in family members.
In Family Therapy, focus is on providing all family members with tools to facilitate healing - so the therapist aims to help family members in improving communication, solving family problems, understanding and handling special family situations, and creating a better functioning home environment. Improving these skills for each member of the family increases the potential for success in addressing family problems. Ideal for counselors and social workers.
In Family Therapy, you will be introduced to the following areas:
| | |
| --- | --- |
| | Definition |
| | Challenges Confronting Couples & Families |
| | Background Information |
| | Emergence of Family Therapy |
| | Developments in Family Therapy |
| | Individual & Family Interaction |
| | Factors in Families |
| | Theory & Therapy |
| | Theory & Techniques |
| | Structural Therapy |
| | Evaluation & Assessment |
| | Children & Adolescents |
| | An Overview of Couples Therapy |
| | Varied Disorders |
| | Family & Couples Therapy |
| | Case Studies |
Prerequisite - Open to all.
Duration - 1 month
Timings - 10.30 am-5.30 pm (Or mutually convenient timings and days).
Number of Seats - Seats are STRICTLY limited to a small number to allow one-to-one interaction. Registration a must.
Course Fee - For fee details call ONLY between 10.30 am-5.30 pm.
Fee includes Course Material, Lunch, Tea, Coffee, Biscuits.
Old participants - review at 25% charge with prior registration.
For Registration, please call / whatsapp / sms on - +91 98202 50500

If not reachable on Telephone or Cell, please send your inquiry to amhcc.amhcc@gmail.com
Contact

INDIA:

Mumbai
+91 98202 50500

Bengaluru
+91 96321 48473

SRI LANKA:
+94 77 937 7500

MALAYSIA:
+60 11 2657 5850
WHATSAPP
Mumbai
+91 98202 50500
Bengaluru
+91 96321 48473
Sri Lanka
+94 77 937 7500
Malaysia
+60 11 2657 5850
Contact Address
MUMBAI

BORIVALI
304, 3rd Floor,
Gorai Indira,
Btwn Pepsi Ground & Pragati School,
Plot 77, RSC 48, Gorai-2,
Borivali [W], Mumbai-400092,
Maharashtra, INDIA

PAREL
4, 2nd Floor,
Above Canara Bank
Shishu Mandir, Gokhale Society Lane,
Parel, Mumbai-400012,
Maharashtra, INDIA
BENGALURU
605, Sindhu Amazon,
Tower 1, Block B,
Near Central Mall,
Outer Ring Road,
Bellandur, Bengaluru-560103,
Karnataka, INDIA