Family Therapy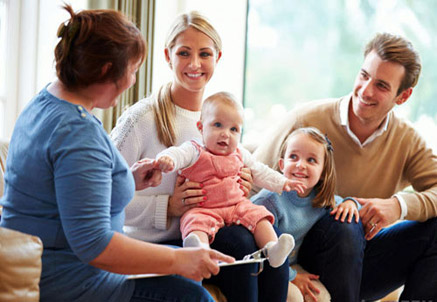 Course Description:
We all begin life with a family composed of blood relatives, adopted parents, or a foster family. The family that we acquire when we are born, influences every aspect of our lives - from our first moments to our last - for the better or for worse. If we are born into a healthy family with healthy relationships, we are likely to learn how to maintain healthy relationships. If we are born into a dysfunctional family that struggles to connect, we may also struggle to connect with others.
While it is certainly unlucky to be born into the second kind of family, it's not an unchangeable situation. Family Therapy offers families a way to do this - a way to develop or maintain a healthy, functional family. Family Therapy is a treatment that is designed to address specific issues affecting the health and functioning of a family. It can be used to help a family through a difficult period of time, a major transition, or mental or behavioral health problems in family members.
In Family Therapy, focus is on providing all family members with tools to facilitate healing - so the therapist aims to help family members in improving communication, solving family problems, understanding and handling special family situations, and creating a better functioning home environment. Improving these skills for each member of the family increases the potential for success in addressing family problems. Ideal for counsellors and social workers.
In Family Therapy, you will be introduced to the following areas:
Definition

Challenges Confronting Couples & Families

Background Information

Emergence of Family Therapy

Developments in Family Therapy

Individual & Family Interaction

Factors in Families

Theory & Therapy

Theory & Techniques

Structural Therapy

Evaluation & Assessment

Children & Adolescents

An Overview of Couples Therapy

Varied Disorders

Family & Couples Therapy

Case Studies
Prerequisite: Open to all. The student must -
Have access to laptop, desktop, tablet.

Have internet connectivity.

Have good skills in English language.
Duration: 6 months.
Classes will be held on mutually agreed dates and time. As this is a self-paced course, students can complete the course earlier. Maximum duration will be 6 months.
Important Fast Facts:
Online study from anywhere.

First write to us at amhcc.amhcc@gmail.com about your intention; joining date; number of - days per week, hours per day; and time you want to devote for your selected study. After we confirm by return of email on the mutually agreed dates and time, you can register and make your payment.

Classes will be on Zoom or Google Meet.

Course is structured for easy comprehension.

24 X 7 Guide support through email.

Students who complete the course will be awarded a completion certificate which must be downloaded.
Registration Form: Fill in your Registration Form .
Payment to be made in favor of: Shanti Mahadevan
| | |
| --- | --- |
| Non-Indian Students use PayPal: US$ 140 | |
4, Shishu Mandir, Gokhale Society Lane, Parel, Mumbai–400012. Maharashtra, INDIA