| | |
| --- | --- |
| » | |
| » | |
| » | |
| » | |
| » | |
| » | Aura & Chakra Healing |
| | |
| » | Karuna Reiki |
| | |
| » | Money Reiki |
| | |
| » | Usui Reiki |
| | |
| | |
Aura and Chakra Healing - Level 1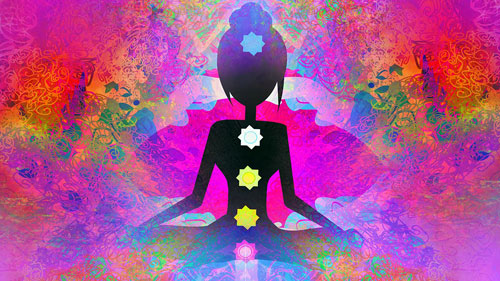 Rationale:
Every living thing that exists, is permeated by a universal energy that connects and nourishes all life. This energy is called by many different names – 'pran', 'chi', and more. It is this energy field around each person which integrally supports the life process in all its aspects - the material operations of the mind, body and soul. The human energy field is composed of the aura and the chakra system. Each layer of aura relates to its corresponding chakra - from 1st to 7th. The chakras are the primary energy centers within the energy field, and at these points important life supporting energetic operations take place. In the first level, you will learn a simple technique to sense the energy field of your client through the use of your hands. You will learn to bring a greater measure of healing energy into your own energy field and into your hands – which you will place palms-down on the chakras/ centers of the person you are healing. In Level 1, you will receive the first energy attunement.
Aura and Chakra Healing - Level 1 will help in –
Sensing energy

Being aware of areas of disease in your patient's energy field

Using the energy in various ways to benefit your patient

Becoming a conscious participant in the healing of the patient

Learn some tools to effectively sense and heal the human energy field

And more…
Prerequisite:
Technical Requirements:
access to laptop, desktop, tablet.

internet connectivity.

mike, headphone, web camera for some topics.
Duration:
Course Commencement:
Course Contents:
Introduction to Aura and Chakra Healing - Level 1

Understanding Aura

Learning to Channel the Energy

Beginning to Sense the Energy Field

Understanding Chakras

Chakra Meditation

Chants, Sacred Breathing Techniques

Energizing the Chakra Points

Our Chakra System

Earth and Humanity

Earth, Human Umbilical Chord

Energizing the Chakra

A Balanced Chakra System

A Typical Treatment

Precautions and Special Situations

And more…
Registration: To receive your Registration Form click here.
Procedure: Download the Registration Form, fill it manually and attach your passport size photograph. A scanned copy of the same must be mailed to – amhcc.amhcc@gmail.com, and original copy must be sent by post to AMHCC to the correspondence address mentioned in 'CONTACT US' page along with the following documents:
Indian students – one copy each of Aadhar Card and mark-sheet of last examination passed.

Non-Indian students – one copy each of Passport [first and last page] and mark-sheet of last examination passed.
Fee: Indian Students: INR 3000
Non-Indian Students: US$ 45
To make Payment: Go to 'CONTACT US' page for bank and account details.
Fast Facts:
E-Learning from anywhere.

Mode of instruction will be in English.

The course is extensive and well-structured for easy comprehension.

The E-Workshop will have all or some of the following related to the course – audios, videos, lessons on Zoom.

Supply of course material will be regulated by your study progress and will be sent from time to time to the Email Id provided by you.

Assignments are to be attempted after each lesson and mailed to us for evaluation – amhcc.amhcc@gmail.com

The course should be completed within the prescribed period for which admission is sought.

Complete guide support.

Internal assessment of assignments.

Certificate will be awarded by AMHCC.
4, Shishu Mandir, Gokhale Society Lane, Parel, Mumbai–400012, Maharashtra, INDIA.
Call: +919819450500