Couples Therapy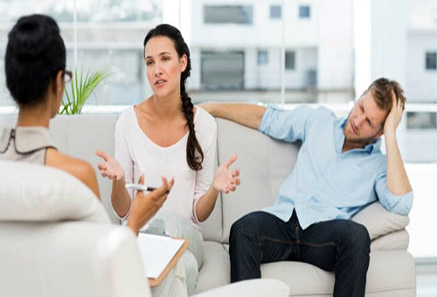 Course Description:
Couples Therapy is for couples who are in a relationship, married or not. It is often referred to as marriage counseling. People struggling with relationship problems argue over trifles, exchange barbed endearments, sulk, and rage. Partners are viewed as sadomasochistic, symbiotic, exploitive, narcissistic, dependent, immature, controlling, deceitful, toxic, double binding, manipulative, and as colluding, having hidden agendas, being dishonest, or playing games.
The goal of Couples Therapy is to exclude irrationality from relationships and to eliminate problems and to improve the couple's relationship. This type of therapy can also help couples decide whether or not they should continue staying together. Although the focus of Couples Therapy is on the couple, there are times when the individual psychological issues of one or both parties need to be addressed. Partners are encouraged to renounce their unreasonable demands, uncontrolled fighting, and fantasy based expectations and to negotiate and compromise.
Couples Therapy often includes sessions designed to improve problem solving, build communication skills, and identify life goals and relationship responsibilities. Other common issues include infidelity, financial problems, illness and other life changes, and anger. Depending on the level of distress in the relationship, therapy can be short term or over a period of several months. Ideal for counsellors and social workers.
In Couples Therapy, you will be introduced to the following areas:
Individual and Couple Counseling

Narrative Therapy

Culturally Formed Attitudes

Couples of Different Age, Background, Culture

Joint Session

Subsequent Joint Sessions

Advanced Methods & Practices

Crisis Point

Friends & Family Members

Difficulties In Sex

Infidelity Issues

Violence & Abuse Issues

Shifting Couple's Problems

Modifying Emotions

Productive Communication

Positive Behaviour

Approaches

Applications

Couple Therapy in Broader Context

Case Studies
Prerequisite: Open to all. The student must -
Have access to laptop, desktop, tablet.

Have internet connectivity.

Have good skills in English language.
Duration: 6 months.
Classes will be held on mutually agreed dates and time. As this is a self-paced course, students can complete the course earlier. Maximum duration will be 6 months.
Important Fast Facts:
Online study from anywhere.

First write to us at amhcc.amhcc@gmail.com about your intention; joining date; number of - days per week, hours per day; and time you want to devote for your selected study. After we confirm by return of email on the mutually agreed dates and time, you can register and make your payment.

Classes will be on Zoom or Google Meet.

Course is structured for easy comprehension.

24 X 7 Guide support through email.

Students who complete the course will be awarded a completion certificate which must be downloaded.
Registration Form: Fill in your Registration Form .
Payment to be made in favor of: Shanti Mahadevan
| | |
| --- | --- |
| Non-Indian Students use PayPal: US$ 140 | |
4, Shishu Mandir, Gokhale Society Lane, Parel, Mumbai–400012. Maharashtra, INDIA