| | |
| --- | --- |
| » | |
| » | |
| » | |
| » | |
| » | |
| » | Aura & Chakra Healing |
| | |
| » | Karuna Reiki |
| | |
| » | Money Reiki |
| | |
| » | Usui Reiki |
| | |
| | |
Couples Therapy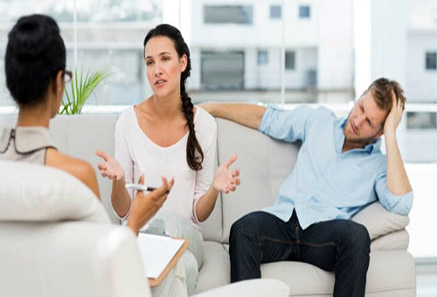 Rationale:
Couples Therapy is for couples who are in a relationship, married or not. It is often referred to as marriage counseling. People struggling with relationship problems argue over trifles, exchange barbed endearments, sulk, and rage. Partners are viewed as sadomasochistic, symbiotic, exploitive, narcissistic, dependent, immature, controlling, deceitful, toxic, double binding, manipulative, and as colluding, having hidden agendas, being dishonest, or playing games. Couples Therapy excludes irrationality from relationships and eliminates problems and improves the couple's relationship. This type of therapy can also help s decide whether or not they should continue staying together. There are times when the individual psychological issues of one or both parties need to be addressed. Other common issues include infidelity, financial problems, illness and other life changes, and anger. Depending on the level of distress in the relationship, therapy can be short term or over a period of several months.
Couples Therapy will help in –
Improving communication skills between two people

Discovering the root causes of major points of conflicts

Creating better understanding

Encouraging better acceptance of one another

Providing the opportunity to increase shared support

Restoring emotional and physical intimacy

Decreasing emotional detachment or avoidance

Restoring emotional strength and building relationship resilience

Restoring lost trust between a couple

Providing a secure environment and opportunity to heal

And more…
Prerequisite:
Technical Requirements:
access to laptop, desktop, tablet.

internet connectivity.

mike, headphone, web camera for some topics.
Duration:
Course Commencement:
Course Contents:
Introduction and History of Couples Therapy

Life Cycle Stages

Models of Couples Therapy

Principles of Couples Therapy

Techniques of Couples Therapy

Applications of Couple Therapy

Issues faced by Couples

Couples in Crisis

Therapy Sessions

And more…
Registration: To receive your Registration Form click here.
Procedure: Download the Registration Form, fill it manually and attach your passport size photograph. A scanned copy of the same must be mailed to – amhcc.amhcc@gmail.com, and original copy must be sent by post to AMHCC to the correspondence address mentioned in 'CONTACT US' page along with the following documents:
Indian students – one copy each of Aadhar Card and mark-sheet of last examination passed.

Non-Indian students – one copy each of Passport [first and last page] and mark-sheet of last examination passed.
Fee: Indian Students: INR 7000
Non-Indian Students: US$ 85
To make Payment: Go to 'CONTACT US' page for bank and account details.
Fast Facts:
E-Learning from anywhere.

Mode of instruction will be in English.

The course is extensive and well-structured for easy comprehension.

The E-Workshop will have all or some of the following related to the course – audios, videos, lessons on Zoom.

Supply of course material will be regulated by your study progress and will be sent from time to time to the Email Id provided by you.

Assignments are to be attempted after each lesson and mailed to us for evaluation – amhcc.amhcc@gmail.com

The course should be completed within the prescribed period for which admission is sought.

Complete guide support.

Internal assessment of assignments.

Certificate will be awarded by AMHCC.
4, Shishu Mandir, Gokhale Society Lane, Parel, Mumbai–400012, Maharashtra, INDIA.
Call: +919819450500