Consultations

»
»
»
»

Workshops

»

Aromatherapy

»

Aura & Chakra Healing

»

Celtic Reiki

»

»

»

»

Karuna Reiki

»

Medical Dowsing

»

Money Reiki

»

Pendulum Dowsing

»

»

Usui Tibetan Reiki

»

»

Flower of Life

»

»

»

»

»

»

»

»

Play Therapy

»

»

Couples Therapy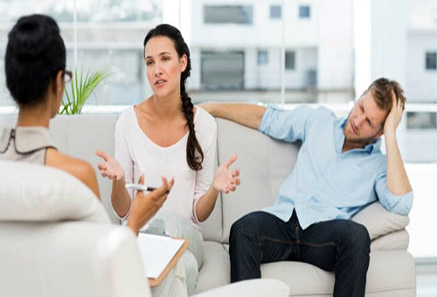 Event Description
Our Couples Therapy class will be more of theory with case illustrations and examples to make the course interesting. Couples Therapy is for couples who are in a relationship, married or not. It is often referred to as marriage counseling. People struggling with relationship problems argue over trifles, exchange barbed endearments, sulk, and rage. Partners are viewed as sadomasochistic, symbiotic, exploitive, narcissistic, dependent, immature, controlling, deceitful, toxic, double binding, manipulative, and as colluding, having hidden agendas, being dishonest, or playing games.
The goal of Couples Therapy is to exclude irrationality from relationships and to eliminate problems and to improve the couple's relationship. This type of therapy can also help couples decide whether or not they should continue staying together. Although the focus of Couples Therapy is on the couple, there are times when the individual psychological issues of one or both parties need to be addressed. Partners are encouraged to renounce their unreasonable demands, uncontrolled fighting, and fantasy based expectations and to negotiate and compromise.
Couples Therapy often includes sessions designed to improve problem solving, build communication skills, and identify life goals and relationship responsibilities. Other common issues include infidelity, financial problems, illness and other life changes, and anger. Depending on the level of distress in the relationship, therapy can be short term or over a period of several months. Ideal for counselors and social workers.
In Couples Therapy, you will be introduced to the following areas:
| | |
| --- | --- |
| | Individual and Couple Counseling |
| | Narrative Therapy |
| | Culturally Formed Attitudes |
| | Couples of Different Age, Background, Culture |
| | Joint Session |
| | Subsequent Joint Sessions |
| | Advanced Methods & Practices |
| | Crisis Point |
| | Friends & Family Members |
| | Difficulties In Sex |
| | Infidelity Issues |
| | Violence & Abuse Issues |
| | Shifting Couple's Problems |
| | Modifying Emotions |
| | Productive Communication |
| | Positive Behaviour |
| | Approaches |
| | Applications |
| | Couple Therapy in Broader Context |
Prerequisite - Open to all.
Duration - 1 month
Timings - 10.30 am-5.30 pm (Or mutually convenient timings and days).
Number of Seats - Seats are STRICTLY limited to a small number to allow one-to-one interaction. Registration a must.
Course Fee - For fee details call ONLY between 10.30 am-5.30 pm.
Fee includes Course Material, Lunch, Tea, Coffee, Biscuits.
Old participants - review at 25% charge with prior registration.
For Registration, please call / whatsapp / sms on - +91 98202 50500

If not reachable on Telephone or Cell, please send your inquiry to amhcc.amhcc@gmail.com
Contact

INDIA:

Mumbai
+91 98202 50500

Bengaluru
+91 96321 48473

SRI LANKA:
+94 77 937 7500

MALAYSIA:
+60 11 2657 5850
WHATSAPP
Mumbai
+91 98202 50500
Bengaluru
+91 96321 48473
Sri Lanka
+94 77 937 7500
Malaysia
+60 11 2657 5850
Contact Address
MUMBAI

BORIVALI
304, 3rd Floor,
Gorai Indira,
Btwn Pepsi Ground & Pragati School,
Plot 77, RSC 48, Gorai-2,
Borivali [W], Mumbai-400092,
Maharashtra, INDIA

PAREL
4, 2nd Floor,
Above Canara Bank
Shishu Mandir, Gokhale Society Lane,
Parel, Mumbai-400012,
Maharashtra, INDIA
BENGALURU
605, Sindhu Amazon,
Tower 1, Block B,
Near Central Mall,
Outer Ring Road,
Bellandur, Bengaluru-560103,
Karnataka, INDIA