Art Therapy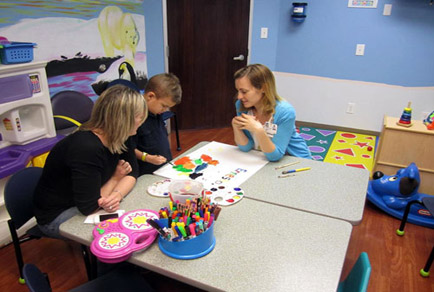 Course Description:
Art is a powerful tool in communication and a medium that expresses more than words. Art expression is a way to visually communicate thoughts and feelings that are too painful to put into words. Art Therapy is used in a wide variety of settings with children, adults, families, and groups. It may be used as an adjunct to treatment, where drawing activities and other expressive media are helpful in the assessment and treatment of people of all ages. A client's feelings and experiences are transformed into concrete and tangible images, allowing both the client and the therapist to obtain a fresh view of problems, conflicts, potentials, and directions.
While other forms of therapies are effective, Art Therapy is increasingly being used by therapists to help individuals quickly communicate relevant issues and problems, thus expediting assessment and intervention. Art Therapy is rapidly becoming an intervention of choice with a variety of disorders. Ideal for counsellors and social workers.
In Art Therapy, you will be introduced to the following areas:
History of Art Therapy

Art-Based Assessments

Various Approaches

Developmental Art Therapy

Expressive Arts Therapy

Drawing and Storytelling

Sexually Abused Children

Drawings in Forensic Investigations

Attention-Deficit/Hyperactivity

Children with Autism

Medical Art Therapy with Children

Adolescent Depression

Adolescent's Violent Imagery

Counselling

Adults with Severe Mental Illness

Addictions

Older Adults

Group Art Therapy

Developing Games, Activities, Themes

Medical Support Groups

Family Art Therapy

Art Therapy with Couples

Case Studies
Prerequisite: Open to all. The student must -
Have access to laptop, desktop, tablet.

Have internet connectivity.

Have good skills in English language.
Duration: 6 months.
Classes will be held on mutually agreed dates and time. As this is a self-paced course, students can complete the course earlier. Maximum duration will be 6 months.
Important Fast Facts:
Online study from anywhere.

First write to us at amhcc.amhcc@gmail.com about your intention; joining date; number of - days per week, hours per day; and time you want to devote for your selected study. After we confirm by return of email on the mutually agreed dates and time, you can register and make your payment.

Classes will be on Zoom or Google Meet.

Course is structured for easy comprehension.

24 X 7 Guide support through email.

Students who complete the course will be awarded a completion certificate which must be downloaded.
Registration Form: Fill in your Registration Form .
Payment to be made in favor of: Shanti Mahadevan
| | |
| --- | --- |
| Non-Indian Students use PayPal: US$ 140 | |
4, Shishu Mandir, Gokhale Society Lane, Parel, Mumbai–400012. Maharashtra, INDIA