| | |
| --- | --- |
| » | |
| » | |
| » | |
| » | |
| » | |
| » | Aura & Chakra Healing |
| | |
| » | Karuna Reiki |
| | |
| » | Money Reiki |
| | |
| » | Usui Reiki |
| | |
| | |
Art Therapy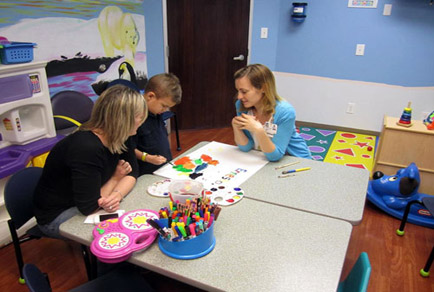 Rationale:
Art is a powerful tool in communication and expression - a medium that expresses more than words. Art expression is a way to visually communicate thoughts and feelings that are too painful to put into words. It is used in a wide variety of settings with all ages of children, adults, families, and groups as an adjunct to treatment, where drawing activities and other expressive media are helpful in the assessment and treatment. Art therapy is a technique rooted in the idea that creative expression can foster healing and mental well-being. It helps to transform clients' feelings and experiences into concrete and tangible images, allowing them and the therapist to obtain a fresh view of psychological disorders, problems, conflicts, potentials, and directions to enhance mental health.
Art Therapy will help in –
Development of cognitive skills

Social-emotional skills

Multisensory skills

Self-confidence

Self-understanding

Emotional resilience

Reducing stress

Resolving conflicts

Communication skills

Creativity

Making one more observant

Trauma cases

Learning disabilities

Physical illness

Life-limiting conditions

Cases with Brain injury

A Quality life

And more…
Prerequisite:
Technical Requirements:
access to laptop, desktop, tablet.

internet connectivity.

mike, headphone, web camera for some topics.
Duration:
Course Commencement:
Course Contents:
History, Science, Introduction to Art Therapy

Vignettes in Art Therapy

The Basics and Principles in Art Therapy

Clinical Approaches to Art Therapy

Practical Art Therapy

Assessment in Art Therapy

Techniques in Art Therapy

Clinical Applications in Art Therapy

Art Therapy with Various Populations

Art Therapy with The Difficult Client

Art Therapy – Settings, Places, Service, Case Studies

Art Therapy Around The World, Career and Issues

And more…
Registration: To receive your Registration Form click here.
Procedure: Download the Registration Form, fill it manually and attach your passport size photograph. A scanned copy of the same must be mailed to – amhcc.amhcc@gmail.com, and original copy must be sent by post to AMHCC to the correspondence address mentioned in 'CONTACT US' page along with the following documents:
Indian students – one copy each of Aadhar Card and mark-sheet of last examination passed.

Non-Indian students – one copy each of Passport [first and last page] and mark-sheet of last examination passed.
Fee: Indian Students: INR 7000
Non-Indian Students: US$ 85
To make Payment: Go to 'CONTACT US' page for bank and account details.
Fast Facts:
E-Learning from anywhere.

Mode of instruction will be in English.

The course is extensive and well-structured for easy comprehension.

The E-Workshop will have all or some of the following related to the course – audios, videos, lessons on Zoom.

Supply of course material will be regulated by your study progress and will be sent from time to time to the Email Id provided by you.

Assignments are to be attempted after each lesson and mailed to us for evaluation – amhcc.amhcc@gmail.com

The course should be completed within the prescribed period for which admission is sought.

Complete guide support.

Internal assessment of assignments.

Certificate will be awarded by AMHCC.
4, Shishu Mandir, Gokhale Society Lane, Parel, Mumbai–400012, Maharashtra, INDIA.
Call: +919819450500