Aromatherapy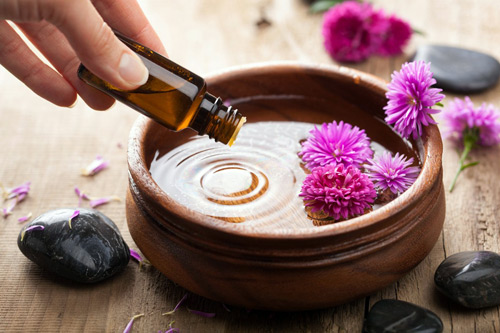 Course Description:
Aromatherapy is the art of using essential oils to help restore balance in the body, and is a form of natural healing that is more than 8,000 years old. It is the systematic use of essential oils in holistic treatments to help improve physical and emotional well-being. Aromatherapy has grown in popularity over the past ten years to become recognized as a complementary therapy; and for those interested in holistic health care, it offers a very rewarding career. This course will make you competent and you will be able to understand Aromatherapy as a holistic therapy in order to apply suitable treatments, and give accurate advice and guidance to your clients.
Aromatherapy aims to treat the whole person by taking into account not only their physical state but also their emotions, which can have a profound effect on general well-being. It works on the principle that the most effective way to promote health and prevent illness is to strengthen the body's immune system; in so doing, it helps to restore the harmony between mind and body. Aromatherapy applications involving usage of essential oils in many ways will be taught in the workshop.
You will be taught to create your own personal aromatic oils for every use: healing, pleasure and beauty. By using essential oils drawn from nature's flowers, trees, seeds, and roots, you learn to make different mixes for aromatherapy, for an amazing variety of applications. in the workshop. You will learn how to make formulas for commercial purposes.
In Aromatherapy, you will be introduced to the following areas:
Introduction & History of Aromatherapy

Safety in Aromatherapy

Essential Oil Extraction Methods

The Essential Oils

The Carrier Oils

The Infused Oils

The Physiology of Aromatherapy

Energy Based Concepts in Aromatherapy

The Aromatherapy Consultation

Aromatherapy Massage and Treatments

Developing Business Opportunities

Selecting Quality Oils

Substitution For Oils

Formulas
Prerequisite: Open to all. The student must -
Have access to laptop, desktop, tablet.

Have internet connectivity.

Have good skills in English language.

Have your own Essential Oils.
Duration: 6 months.
Classes will be held on mutually agreed dates and time. As this is a self-paced course, students can complete the course earlier. Maximum duration will be 6 months.
Important Fast Facts:
Online study from anywhere.

First write to us at amhcc.amhcc@gmail.com about your intention; joining date; number of - days per week, hours per day; and time you want to devote for your selected study. After we confirm by return of email on the mutually agreed dates and time, you can register and make your payment.

Classes will be on Zoom or Google Meet.

Course is structured for easy comprehension.

24 X 7 Guide support through email.

Students who complete the course will be awarded a completion certificate which must be downloaded.
Registration Form: Fill in your Registration Form .
Payment to be made in favor of: Shanti Mahadevan
| | |
| --- | --- |
| Non-Indian Students use PayPal: US$ 140 | |
4, Shishu Mandir, Gokhale Society Lane, Parel, Mumbai–400012. Maharashtra, INDIA