Karuna Reiki Level - 1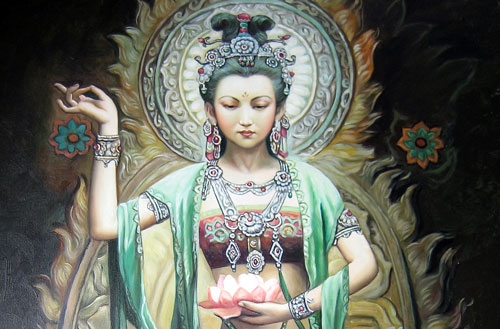 Course Description:
Karuna Reiki is an outgrowth of Usui/ Tibetan Reiki and is considered to be a higher level of energy than Traditional Usui Reiki. Karuna Reiki is said to connect you with the Enlightened Beings that are endlessly working to heal all living beings and to end suffering on Earth. When you begin practicing Karuna Reiki, you become more open to these beings, and can work along with them in order to heal.
Karuna is a Sanskrit word and is used both in Buddhism and Hinduism, meaning "Compassion" or "The Universal Compassion of a Bodhisattva". In the Buddhist literature, it is mentioned that Karuna must be accompanied by parjna or wisdom in order to have the right effect. It is a belief shared by many that our time spent here on earth is to cultivate this compassion and to heal others and ourselves. Each day is a gift that we are given to learn to love one another unconditionally, and to help heal each other without question. In the same way that you would want to heal your own wounds, you would also want the wounds of others to heal.
When individuals experience enlightenment, they report that all beings are known as one. Therefore, it is natural to extend compassion or Karuna to everyone without distinction. Karuna Reiki is divided into four levels. Karuna Reiki - Level 1 is taught to those who are practicing with Usui Reiki - Level 3. In this level, four symbols are taught, attunement is given to activate them. Activation of Karuna Reiki is through an 'Attunement' or 'Initiation'.
In Karuna Reiki - Level 1, you will be introduced to the following areas:
Introduction

The Karuna Reiki Course

Karuna Reiki Philosophy

Karuna Reiki Learning

Kuan Yin

Qualities of Karuna Reiki Energy

Karuna Reiki and Cellular Healing

The Healing Process

Karuna Reiki - Level 1 Symbols

Zonar – Halu – Harth – Rama

Chanting the Karuna Reiki Symbols

Toning with Karuna Reiki Symbols

Use of Karuna Reiki - Level 1 Symbols

Reiki Talk

Conclusion

Attunement
Prerequisite: Open only to those who have completed Usui Reiki - Level 3. The student must -
Have access to laptop, desktop, tablet.

Have internet connectivity.

Have good skills in English language.
Duration: 5 days.
Classes will be held on mutually agreed dates and time. As this is a self-paced course, students can complete the course earlier. Maximum duration will be 6 months.
Important Fast Facts:
Online study from anywhere.

First write to us at amhcc.amhcc@gmail.com about your intention; joining date; number of - days per week, hours per day; and time you want to devote for your selected study. After we confirm by return of email on the mutually agreed dates and time, you can register and make your payment.

Classes will be on Zoom or Google Meet.

Course is structured for easy comprehension.

24 X 7 Guide support through email.

Students who complete the course will be awarded a completion certificate which must be downloaded.
Registration Form: Fill in your Registration Form .
Payment to be made in favor of: Shanti Mahadevan
| | |
| --- | --- |
| Non-Indian Students use PayPal: US$ 45 | |
4, Shishu Mandir, Gokhale Society Lane, Parel, Mumbai–400012. Maharashtra, INDIA