Priya Karthik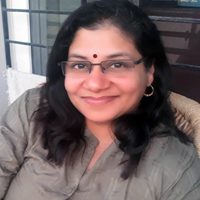 "Greetings from Alternative Medicine Health Care Centre - the Academy for Complementary and Alternative Therapy Courses. The mere fact that you are here, shows your desire to absorb knowledge in Holistic Wellness. AMHCC is the place to learn... everything is taught systematically, thoroughly and intensively." Priya Karthik was earlier a student at AMHCC, and later began facilitating courses and healing. Today she is also its Co-Director.
With a Masters in English Literature and a Ph.D. in Psychology, P. Karthik has certifications in many holistic courses. Earlier she was into music and had a blooming career at Star Television Ltd, and later at National Geographic Channel. She met various kinds of people from various walks of life, and seeing the myriad problems and situations that people face, she feels the need to make alternative healing techniques available to mankind.
According to P Karthik, complementary and alternative healing methods are finding their way into institutional settings, from hospitals to hospices, and this push appears to be coming from patients as well as clinical practitioners. "According to an AHA survey, Reiki is now one of the top three complementary in-patient therapies mostly in the U.S. hospitals. While Massage therapy takes the first place, Art and Music therapy stands at second. And very close in ranking is the 'touch therapies' like Reiki". She says that more and more patients are requesting care beyond what most consider as traditional health services; and hospitals are responding to the needs of the communities they serve by offering these therapies.
Many top medical facilities are now realizing that literally from cradle to old age, patients in neonatal units, hospices, hospitals, nursing homes, surgical units, organ transplant units, and other clinical settings are increasingly being helped by complementary and alternative healing. They are being incorporated into the clinical settings more and more for their benefits especially in the areas of pain control and reduction of unwanted side effects. Complementary and alternative therapies can reduce pain, speed up recovery and improve the outcome.
She reflects, "I saw S Mahadevan teach the numerous courses in holistic field and realized how medications cause damage to us in the long run. I had this burning desire to work in holistic field and heal people. That's when I decided to learn various courses. I have joined S Mahadevan to contribute to the world what I have learned. It is interesting to note how people who come in feeling distressed, leave at-ease after their appointment. They feel so much better both emotionally and physically. Holistic healing makes such a positive difference in the lives of people, and for me it is a joy to be a part of this effort."
4, Shishu Mandir, Gokhale Society Lane, Parel, Mumbai–400012. Maharashtra, INDIA