Consultations

»
»
»
»

Workshops

»

Aromatherapy

»

Aura & Chakra Healing

»

Celtic Reiki

»

»

»

»

Karuna Reiki

»

Medical Dowsing

»

Money Reiki

»

Pendulum Dowsing

»

»

Usui Tibetan Reiki

»

»

Flower of Life

»

»

»

»

»

»

»

»

Play Therapy

»

»

Aromatherapy - Level 2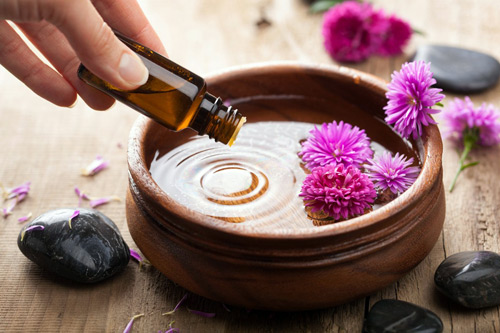 Event Description
Aromatherapy is the art of using essential oils to help restore balance in the body, and is a form of natural healing that is more than 8,000 years old. It is the systematic use of essential oils in holistic treatments to help improve physical and emotional well-being. Aromatherapy has grown in popularity over the past ten years to become recognized as a complementary therapy; and for those interested in holistic health care, it offers a very rewarding career.
Aromatherapy Level 1, dealt in detail with essential oils. Aromatherapy Level 2, teaches you to create your own personal aromatic oils for every use: healing, pleasure and beauty. By using essential oils drawn from nature's flowers, trees, seeds, and roots, you learn to make different mixes for aromatherapy, for an amazing variety of applications. Aromatherapy applications involving usage of essential oils in many ways will be taught in the workshop. This course will make you competent and you will learn how to make formulas for commercial purposes.
In Aromatherapy, you will be introduced to the following areas:
Introduction to Advanced Aromatherapy

Nature's Gifts to Mankind

Selecting Quality Oils

Substitution For Oils

Various Formulas

Air Fresheners

Aroma Lamps

Baby Products

Baths

Body Powder

Breath Fresheners

Candles

Carpet Fresheners

Chapped Lip Products

Closet / Drawer Scents

Deodorants

Diffusers

Foot Baths

Foot Powders

Furniture Polish Oils

Gardening Sprays

Hair Care Blends

Hand Baths

Insect Bite Blends

Insect Repellent Blends

Jacuzzi Oils

Lactation Oils

Laundry Scent Blends

Lice Remover Oils

Massage Oils

Mist Sprays

Mouthwash

Potpourri

Pre-Shave Blends

Skin Care Blends

Steam Inhalation Oils

Sunburn Relief Oils

Suntan oils
Prerequisite - Open to ONLY those who have completed Level 1 with AMHCC.
Duration - 5 days.
Timings - 10.30 am-5.30 pm.
Number of Seats - Seats are STRICTLY limited to a small number to allow one-to-one interaction. Registration a must.
Course Fee - For fee details call ONLY between 10.30 am-5.30 pm.
Fee includes Course Material, Lunch, Tea, Coffee, Biscuits.
Old participants - review at 25% charge with prior registration.
For Registration, please call / whatsapp / sms on - +91 98202 50500

If not reachable on Telephone or Cell, please send your inquiry to amhcc.amhcc@gmail.com
Contact

INDIA:

Mumbai
+91 98202 50500

Bengaluru
+91 96321 48473

SRI LANKA:
+94 77 937 7500

MALAYSIA:
+60 11 2657 5850
WHATSAPP
Mumbai
+91 98202 50500
Bengaluru
+91 96321 48473
Sri Lanka
+94 77 937 7500
Malaysia
+60 11 2657 5850
Contact Address
MUMBAI

BORIVALI
304, 3rd Floor,
Gorai Indira,
Btwn Pepsi Ground & Pragati School,
Plot 77, RSC 48, Gorai-2,
Borivali [W], Mumbai-400092,
Maharashtra, INDIA

PAREL
4, 2nd Floor,
Above Canara Bank
Shishu Mandir, Gokhale Society Lane,
Parel, Mumbai-400012,
Maharashtra, INDIA
BENGALURU
605, Sindhu Amazon,
Tower 1, Block B,
Near Central Mall,
Outer Ring Road,
Bellandur, Bengaluru-560103,
Karnataka, INDIA