Consultations

»
»
»
»

Workshops

»

Aromatherapy

»

Aura & Chakra Healing

»

Celtic Reiki

»

»

»

»

Karuna Reiki

»

Medical Dowsing

»

Money Reiki

»

Pendulum Dowsing

»

»

Usui Tibetan Reiki

»

»

Flower of Life

»

»

»

»

»

»

»

»

Play Therapy

»

»

Aromatherapy - Level 1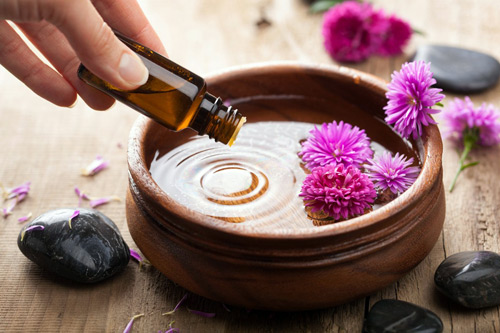 Event Description
Aromatherapy is the art of using essential oils to help restore balance in the body, and is a form of natural healing that is more than 8,000 years old. It is the systematic use of essential oils in holistic treatments to help improve physical and emotional well-being. Aromatherapy has grown in popularity over the past ten years to become recognized as a complementary therapy; and for those interested in holistic health care, it offers a very rewarding career.
Aromatherapy aims to treat the whole person by taking into account not only their physical state but also their emotions, which can have a profound effect on general well-being. It works on the principle that the most effective way to promote health and prevent illness is to strengthen the body's immune system; in so doing, it helps to restore the harmony between mind and body. Aromatherapy applications involving usage of essential oils in many ways will be taught in the workshop. This course will make you competent and you will be able to understand Aromatherapy as a holistic therapy in order to apply suitable treatments, and give accurate advice and guidance to your clients.
In Aromatherapy, you will be introduced to the following areas:
| | |
| --- | --- |
| | Introduction& History of Aromatherapy |
| | Safety in Aromatherapy |
| | Essential Oil Extraction Methods |
| | The Essential Oils |
| | The Carrier Oils |
| | The Infused Oils |
| | The Physiology of Aromatherapy |
| | Energy Based Concepts in Aromatherapy |
| | The Aromatherapy Consultation |
| | Aromatherapy Massage and Treatments |
| | Developing Business Opportunities |
Prerequisite - Open to all.
Duration - 5 days.
Timings - 10.30 am-5.30 pm.
Number of Seats - Seats are STRICTLY limited to a small number to allow one-to-one interaction. Registration a must.
Course Fee - For fee details call ONLY between 10.30 am-5.30 pm.
Fee includes Course Material, Lunch, Tea, Coffee, Biscuits.
Old participants - review at 25% charge with prior registration.
For Registration, please call / whatsapp / sms on - +91 98202 50500

If not reachable on Telephone or Cell, please send your inquiry to amhcc.amhcc@gmail.com
Contact

INDIA:

Mumbai
+91 98202 50500

Bengaluru
+91 96321 48473

SRI LANKA:
+94 77 937 7500

MALAYSIA:
+60 11 2657 5850
WHATSAPP
Mumbai
+91 98202 50500
Bengaluru
+91 96321 48473
Sri Lanka
+94 77 937 7500
Malaysia
+60 11 2657 5850
Contact Address
MUMBAI

BORIVALI
304, 3rd Floor,
Gorai Indira,
Btwn Pepsi Ground & Pragati School,
Plot 77, RSC 48, Gorai-2,
Borivali [W], Mumbai-400092,
Maharashtra, INDIA

PAREL
4, 2nd Floor,
Above Canara Bank
Shishu Mandir, Gokhale Society Lane,
Parel, Mumbai-400012,
Maharashtra, INDIA
BENGALURU
605, Sindhu Amazon,
Tower 1, Block B,
Near Central Mall,
Outer Ring Road,
Bellandur, Bengaluru-560103,
Karnataka, INDIA